The Graham Hughes International Charity
By ODOllie,
Filed under:
Comments: Comments Off on The Graham Hughes International Charity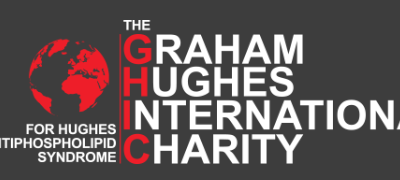 The Graham Hughes International Charity for Hughes (Antiphospholipid) Syndrome (GHIC) is a global charity that improves and provides education, raises awareness about Hughes Syndrome and supports all those affected by the condition.
Hughes Syndrome, reported for the first time in 1983, can be a life threatening autoimmune disease, that makes the blood 'sticky' causing a risk of clots, commonly as DVT's, heart attacks or strokes and can also cause miscarriage or even sadly, still birth.
GHIC's vision is to ensure that no matter where people live in the world, the standard of diagnosis and treatment will be the same.  GHIC believe that sharing relevant, accurate and up to date information with professionals, individuals and other associated Hughes Syndrome groups, they can improve the lives of all those affected by or associated with the disease.